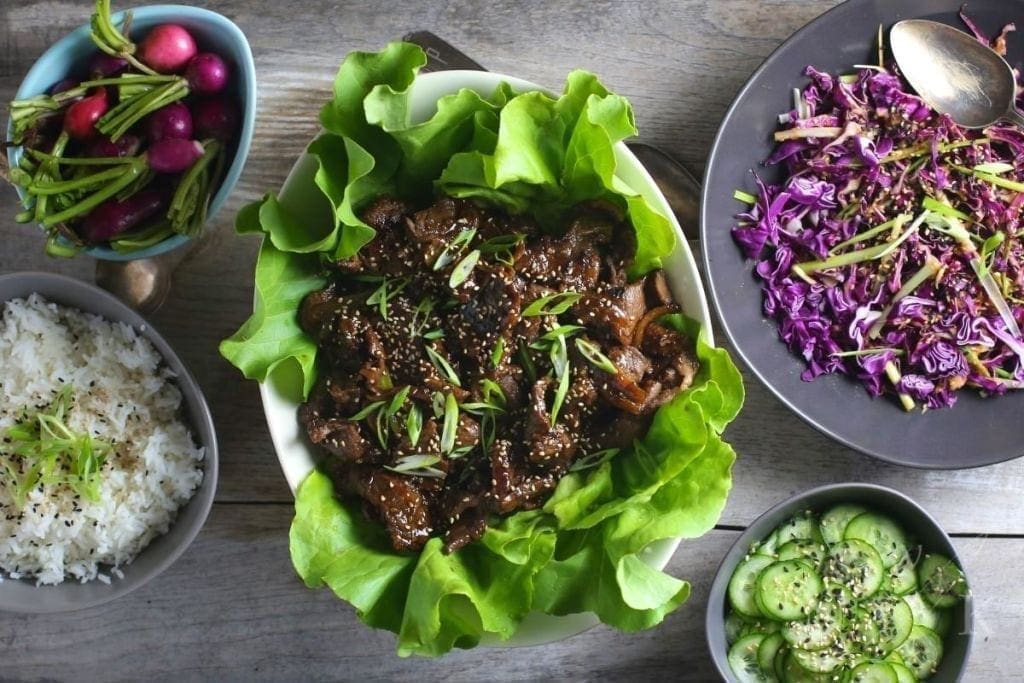 Bulgogi is a Korean dish of meltingly tender, thinly-sliced beef seasoned in a delicious soy and sugar marinade. We serve it in lettuce cups with lots of bright vegetable side dishes. 
I was a pretty picky eater as a kid. If I could smother something in ketchup it was usually safe but I wasn't what you would call adventurous (no fish of any kind, nothing mushy). Kids are so weird though. My favorite after-school snack was crackers smeared with cream cheese, sprinkled with garlic powder. I thought I was such a gourmet. Matt liked condensed milk sandwiches. And weirdest of all, my brother's favorite snack was smoked oysters dipped in Thousand Island dressing. This was when he was ten, and no, we didn't live on the set of Dynasty.
Anyway, the point is that I was a picky little brat except when it came to Korean food. I wouldn't eat mashed potatoes for all the money in the world but give me seaweed and a bowl of kimchi and I was set. In fact to this day, my comfort food is toasted seaweed with rice, avocado and kimchi.
My favorite Korean dish is Bulgogi (in Korean, literally "fire-meat") which is very thinly sliced beef that has been marinated in a delicious sweet soy mixture and then grilled or pan-seared. For some reason I always thought of this as a complicated restaurant-only dish. I was wrong. Turns out Bulgogi is not only delicious, it's also super easy to make.