I'm kind of a late bloomer when it comes to mushrooms (forgive me, I tried to think of a mushroom pun and this was all I could come up with. Mushrooms "bloom", right?). It was only a few years ago that I realized that I do, in fact, enjoy mushrooms, but only if they're cooked in certain ways.
For instance, to me, a sliced, raw button mushroom tastes like moldy, damp styrofoam. No thanks! Also, mushrooms that have been cooked at a low temperature until they get wet and slimy make me want to hide them under the couch. I realize that this is completely my personal forage phobia (ha!) and most people enjoy mushrooms without all this drama.
But! But! But! If you cook a mushroom (pretty much any kind), over high heat and don't move it around too much, magic happens. It gets beautifully brown and caramelized, without getting that musky rubberiness that, for me, is so unappealing. Toss in some fresh herbs and a little wine or sherry and a pat of butter… heaven.
Now that I know this secret about mushrooms, I've become much more open to trying different varieties, cooked different ways. In fact, a couple of days ago, I shocked Matt by saying "I'm thinking about making mushroom soup." Now, bear in mind that he's suggested making mushroom soup many times over the years, and I've always responded with the "Hell no, that's gross, eeew, how can you suggest something so vile" face. Everyone has that face, right? So you can imagine his surprise at this dramatic turnaround. Luckily, his desire for mushroom soup was stronger than his impulse to call me a hypocrite. Clever boy.
What I like about this recipe from The Balthazar Cookbook is that it's packed with mushrooms so it ends up nice and thick, not watery at all. I did make a few changes to the original recipe. I cut down on the oil and cream (the original recipe called for a 1/2 cup of olive oil and a full cup of cream) and I actually forgot to add the butter at the end and didn't miss it at all. I also changed the herb combination somewhat, since I find rosemary can be overwhelming and I love thyme with mushrooms. And I also added a bit of sherry because…  because a bit of booze makes everything yummier.
In case you're wondering, on top is a bit of toasted bread with goat cheese, honey and pecans mixed in and some cracked black pepper on top.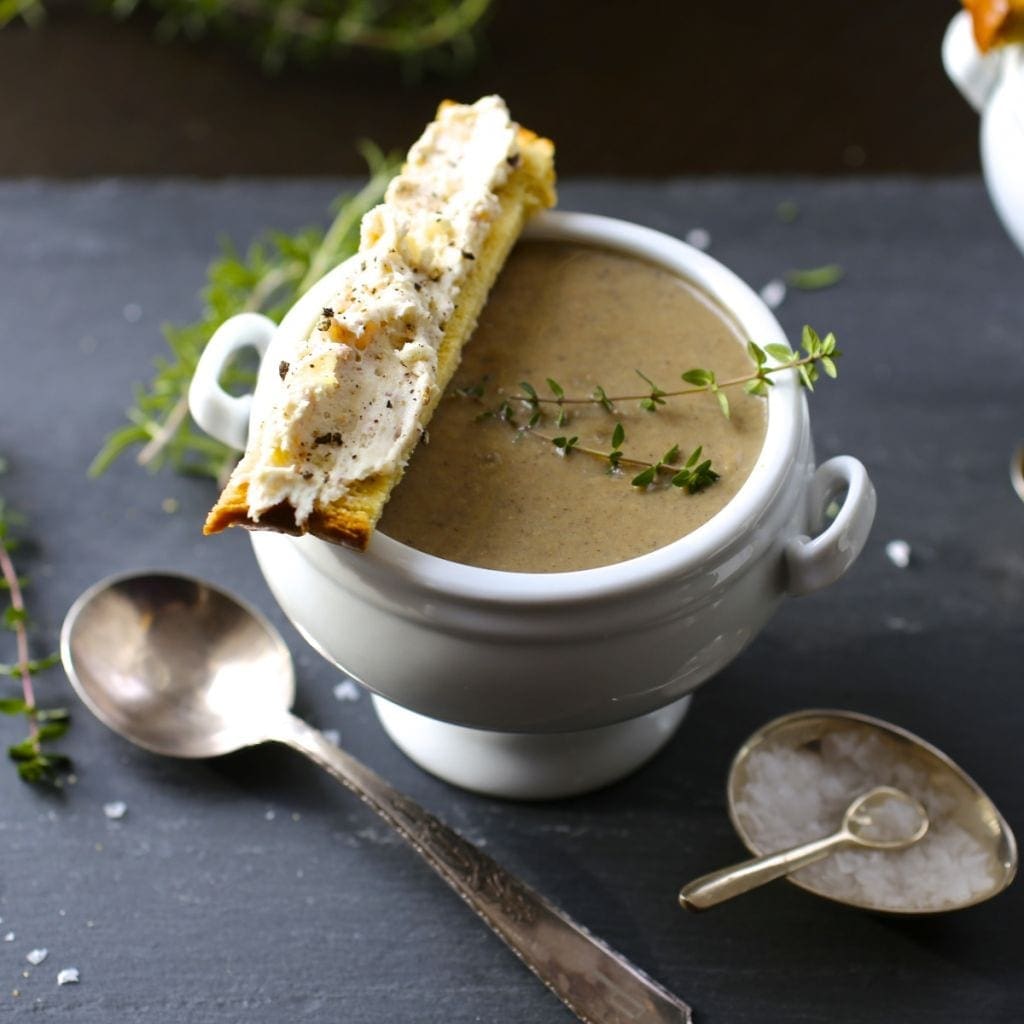 Cream of Mushroom Soup
Author:
The Balthazar Cookbook (adapted)
Ingredients
1 ounce dried mushrooms (porcini, morels, or shiitakes)
¼ cup olive oil
1 small sprig of rosemary
4 sprigs of sage
4 sprigs of thyme
1 large yellow onion, peeled and thinly sliced
4 garlic cloves, peeled and thinly sliced
1½ teaspoons course kosher salt
¼ teaspoon pepper
1 pound crimini or white button mushrooms, cleaned and thinly sliced
1 pound shiitake mushrooms, stemmed, cleaned and thinly sliced
6 cups chicken, beef, vegetable stock or water
¼ cup dry sherry
½ cup heavy cream
2 tablespoons unsalted butter
Instructions
Soak the dry mushrooms in 1 cup of hot water for 20 to 30 minutes, until plump.
Strain the soaking liquid through a coffee filter to remove grit and reserve, along with the reconstituted mushrooms, until needed.
Heat the olive oil in a large pot over a medium flame. Bundle the rosemary, thyme and sage together and tie with kitchen twine. When the oil is hot, add the herb bundle and sizzle for a few minutes on both sides to infuse the oil. It will pop a little so be careful.
Add the onion, garlic, salt and pepper and cook for 5 - 7 minutes, until the onion is soft and translucent but not brown.
Turn the flame to high and add the crimini and shiitake mushrooms. Stir.
Cook for 15 minutes, during which the mushrooms will give off their liquid and deflate significantly. Stir occasionally.
Add the stock, the dried mushrooms and the filtered soaking water.
Simmer for 30 minutes. Add the sherry and simmer for 5 minutes more.
Remove the herbs. Using an immersion blender, puree the soup until completely smooth (or use a regular blender, working in batches and return pureed soup to the pot).
Stir in cream and butter and keep at a very low simmer until ready to serve.