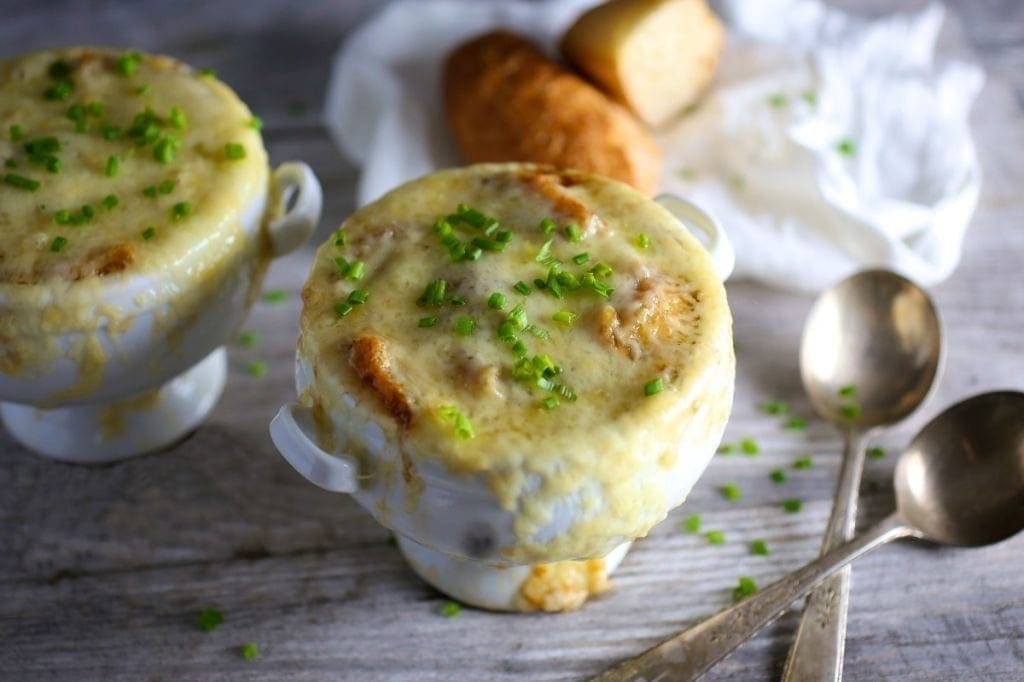 Unapologetically rich, boozy and indulgent, French Onion Soup asks nothing of you but time, but gives back a thousandfold in flavor, warmth and comfort. It may become your new winter BFF.
(2018 update: We're busy this weekend working with Beacon Farmers Market's "Soup4Greens" event, where volunteers cook up a whole variety of soups which are sold to fundraise for a program helping local people to buy healthy food. Come and join us if you're in the area! We'll be making Sausage, White Bean and Escarole soup, but since we're on a soup kick, we decided to repost this article from a few years back: one of our favorites and we think it'll become yours too.)
---
Do you feel a disturbance in the force? As though millions of voices cried out in annoyance and were suddenly told to quit whining? That was the entire population of the east coast of the U.S. simultaneously accepting the fact that this winter will never, ever end.
You've made your point Nature! Sheesh. No reason to be such a weiner about it.
So, if you too happen to live in a frozen hell-scape (or just enjoy delicious French Onion Soup), this recipe is a great way to spend a frigid afternoon. Plus, it includes Winter's top food groups. Bread, cheese and booze. Yes, there is lots and lots of alcohol in this soup. Three different kinds in fact, sherry, cognac and white wine. This might seem excessive (or if you're like me, quite restrained), but the alcohol is entirely cooked out, leaving just a warm, rich decadence. Yum.