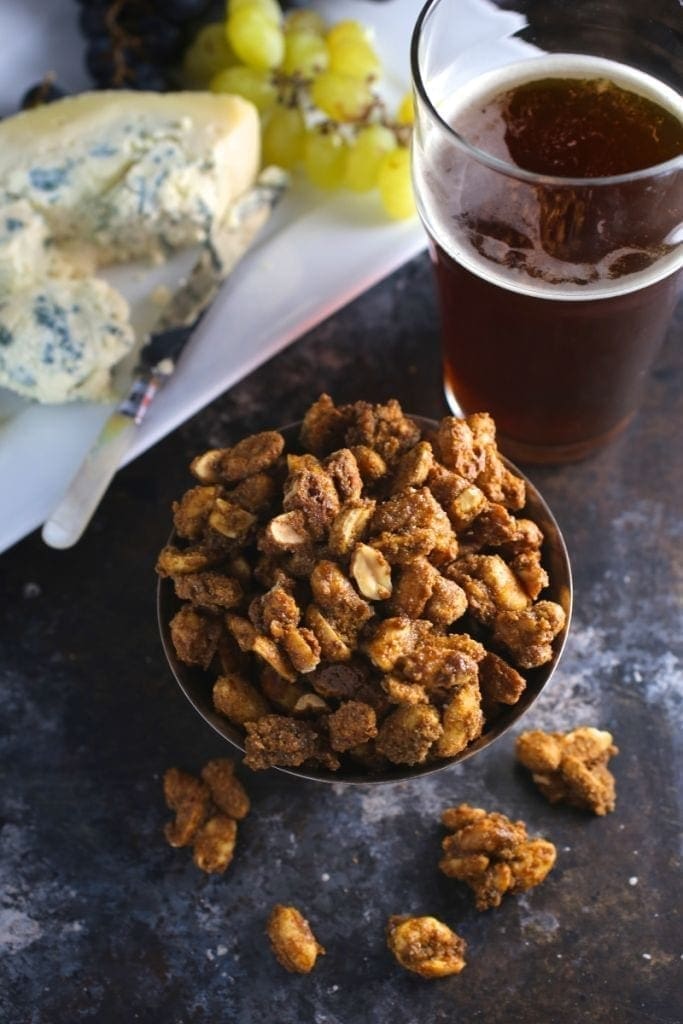 Ah, nuts! These Sweet and Spicy Candied Peanuts strike the perfect balance of sweet and heat. They're great for snacking or for adding a special touch to soups or salads. 
I initially made these candied peanuts because I wanted something extra fancy to top our Thai Coconut Curry Butternut Squash Soup. While I love croutons, they didn't seem quite right for this for some reason. So it needed to be crunchy and salty of course, but also with a little sweetness. And it needed to be savory too, something that wouldn't get lost in the rich flavor of the soup.
I know, I know. So demanding. Nothing could deliver all those things at once, right? Wrong!
Spicy curry candied nuts do and they're a cinch to make.
So … from these humble beginnings comes the greatest snack food in the history of pretty much everything. I'm not even kidding. Candied peanuts are unbelievably good.
The crunchy coating has that perfect balance of salty and sweet, and an almost toffee-like flavor from the mix of white and brown sugars that caramelize in the oven. The savory heat comes from a mix of spices, including Madras curry powder, cayenne pepper, cumin and cinnamon. These are not sear-your-tongue spicy, more like a warm heat but you should definitely put your own spin on it.