This kumquat ginger syrup, made from tiny, tasty, nutritious citrus and fresh ginger, is a delicious and versatile cocktail mixer.
The majority of things that I buy at the grocery store or farmer's market, I know exactly what I want to do with. Broccoli rabe looks good? Let's make a pizza or maybe pasta with white beans. Carrots are on sale? Let's roast them with honey and thyme or make carrot cupcakes. Totally reasonable.
Then there are the impulse buys. I saw these kumquats and I just had to have them. I mean, look at them!
They're like teeny, tiny oranges meant for a doll! I ask you, reader: how could I resist them? Well, I couldn't, which is why you're looking at pictures of them right now. The thing is, I had absolutely no idea what to do with them once I got them home.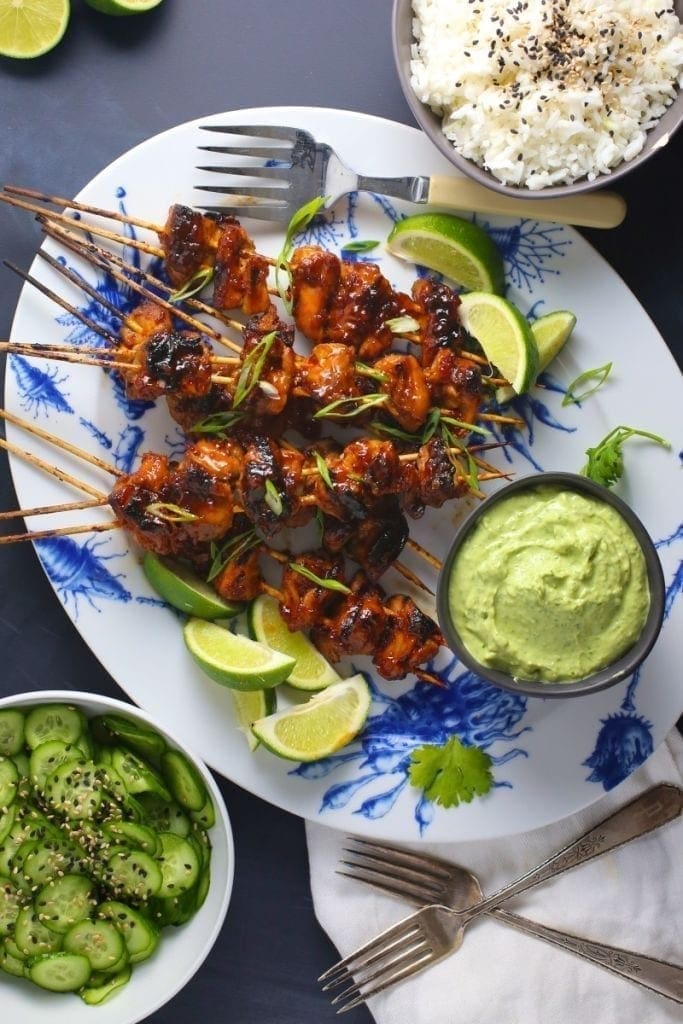 With the perfect balance of sweet, salty and spicy, our grilled Asian chicken skewers are a treat any night of the week. We like to serve it with creamy avocado-cilantro sauce. 
Hooray, it's allergy season! I don't know about you guys, but I could power a small town with the force of my sneezing alone. I basically look like a teary-eyed, puffy-faced medical emergency this week, to the point where even my beloved dog is giving me side-eye and calling around to find a replacement begging target should I expire before dinnertime.
Be that as it may, I will not let a little thing like debilitating histamine reactions stop me from doing what I've been waiting months for. That's right, grilling! Last night Matt dusted off the old grill, gave the spiders living inside it their eviction notices and warned the neighbors that delicious smells would be wafting their way soon.
And I gotta tell you, we have made this chicken three times in the last month and it is amaaaaaahhhhzing. The first two times we cooked it inside on a grill pan and set off our smoke alarm about 15 times during the process. You know what? I REGRET NOTHING. It's that good. It's spicy and sweet and tangy and sticky in exactly the way you want food on a stick to be.
'Sup nerds!
Not you're not crazy, I've blogged this recipe before but I'm re-posting it for two reasons; One, I wrote out the recipe in a bit more detail so it's easier to follow and two, I took much better photos. This is the first time I've updated a post for mostly cosmetic reasons but the truth is, this is one of my favorite recipes ever and the original pics were just not doing it justice. Can you tell that I really, really want you to try it? Therefore I present to you, Miso Salmon, Part Deux. 
——
If you've never cooked with miso, miso salmon is a really great recipe to start with. While most of us are probably familiar with miso in soup form, it's also fantastic in all kinds of dishes, from savory to sweet. I use it in salad dressings, I love it drizzled on roasted vegetables (try this same glaze on eggplant, yum).
One of the great aspects of miso is that it keeps for ages in the fridge (seriously, months and months), so you won't have to go on a miso bender just so you won't waste it. I mean, you'll probably go on a miso bender anyway because the stuff is delicious but it won't be for economic reasons.
This miso salmon recipe is certainly what I use it for most often (and how I love it best). The glaze has a great balance between savory and sweet, and the skin gets wonderfully burnished and crisp. It also literally takes just a few minutes from start to finish, so it's my absolute favorite weeknight dinner. Quick or not, for me, this is one of the best salmon recipes of all time. I could have it twice a week, happily.