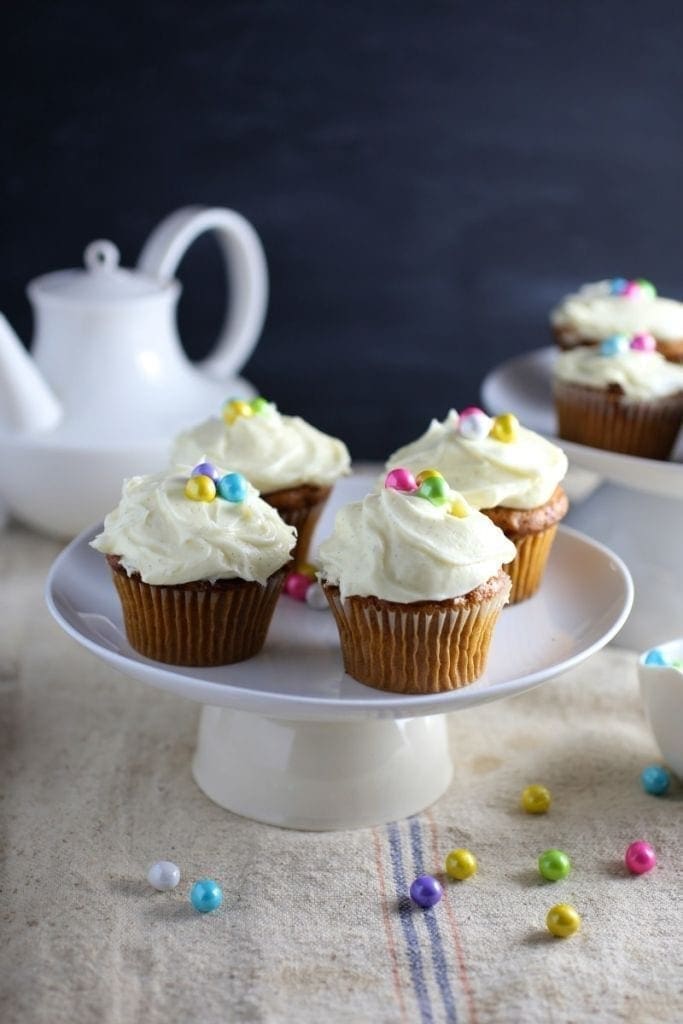 What's better than Carrot Cake? Moist and tender Carrot Cupcakes with vanilla-flecked cream cheese frosting (just because you get one all to yourself). 
Carrot cupcakes are perfect for the Venn diagram of people who like carrot cake and people who like cupcakes … let's face it, that's basically everyone, right?
Yesterday, like two slightly terrified mole-rats unused to sunlight and open space, Matt and I ventured out onto our deck and… stood there.
"That's, um,  great," says a normal person, "but are you sure it's a story worth typing up and putting on the internet?"
Yes. Yes it is.
We turned our faces towards the warm sun, each with a steaming cup of coffee clasped in our pale, trembling hands. Our huge pink eyes had grown unused to the light and we blinked, almost afraid to believe it, half convinced that the heat was a practical joke and nature was going to dump a foot of snow on us the moment we let our guard down. So we waited, nervous and twitchy, but nothing happened.
"I think it's going to be okay," Matt said quietly. I looked out at the brown, battered garden and noticed tiny little green shoots poking up out of the dirt. The first stems of garlic. Yes, I thought, it will be.
Yup, this winter is Ramsay Bolton and we, my friends, we are Reek. (For those of you who have no idea what I'm talking about and who clicked on that first link and think I've gone insane, I apologize and assure you that I have not. It's just that Game of Thrones has started again and I'm a little… distracted). Full disclosure; I spent an entire hour looking for the perfect Ramsay Bolton gif, and boy did it pay off. Click it. Go on. Do it.
Some things are just difficult to explain.
For example, how can one man be so attractive yet so clearly resemble an otter? (Yes, I am referring to Benedict Cumberbatch. Click the second link if you want to laugh for 45 minutes).
Also, how can I be so excited about Outlander, when GAME OF THRONES is back on Sunday! (Hey, I can see you making a face but the blog is called NERDS with Knives so it's not like you were misled.)
And finally, how can the easiest dish to cook also be the most delicious thing ever? This sounds like hyperbole, which granted, I am guilty of a million times per day but I'm not yanking your chain here. This seriously might be the best weeknight dinner we've ever made.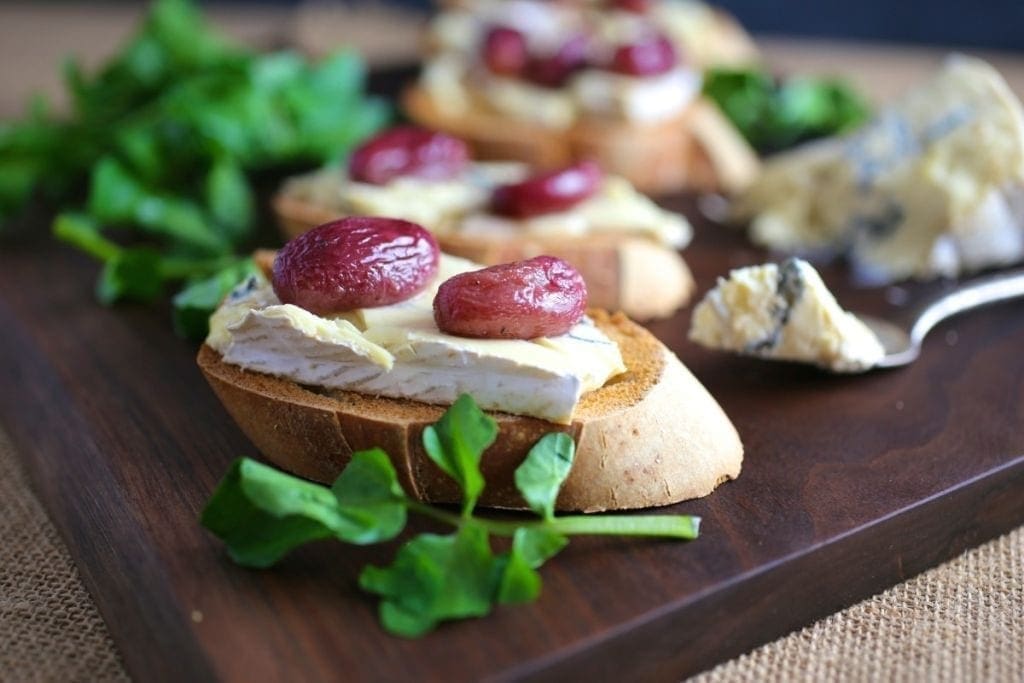 Crostini is just a fancy word for a a tiny toasty with delicious toppings. They're an easy, versatile and crowd-pleasing party snack. And shouting "Crostini!" makes you sound like a Jawa from Star Wars.
It's taken me a while, but I've discovered something about myself. I have tunnel vision. I get an idea in my head and I become obsessed with it (for example; that fun little blog that we were supposed to update every once in a while only when something interesting happened). Sometimes it's a television show, sometimes a book, or a place.
When we're going to throw a dinner party, it's usually one particular dish that hooks me. In one sense it's great because I love researching recipes and techniques, figuring out flavor combinations and the best ways to prepare a specific thing. The problem is that I can get so obsessed with that one thing, that everything else falls by the wayside and becomes an afterthought (or on more than one occasion, a never-thought). Oh, you wanted something other than just a huge slab of ribs at the party? 
This is especially true for me when it comes to appetizers (or 'starters', as Matt calls them in an oh-so-adorably-English way). I usually forget all about them and then, once hungry people are already in my house, I rummage to see if there are any non-moldy cheeses in the fridge I can pull out.
So recently, being a much better host than I, Matt politely suggested that we think about and actually prepare a "first course" for the dinner we were planning with our wonderful friends, Larry and Catherine. I know, he's so weird.